August 19, 2020
Photos by: Caroline Chia | Words by: Serene Goh
(Photo above) This kitchen comes alive at 4am when the cooking starts. Willing Hearts provides over 9,000 meals a day now, up from 6,500 before the Circuit Breaker.
Volunteers fire up the Willing Hearts' Kembangan kitchen daily around 4am, donning requisite hairnets, aprons and gloves to prepare and pack meals for the day.
Some work there five days a week, others one or two. But as a whole, the crew behaves like a 200-strong family, whose many members have worked together so long they function like clockwork. 
It helps that they were already a well-oiled machine before the lockdown, because their mission of feeding the poor became critical during the Covid-19 Circuit Breaker. 
Mr Tony Tay, the charity's founder, is right there among them. Willing Hearts, founded in 2003, is secular, non-denominational and non-affiliated. 
(Above) Volunteers packing food for the day. Many regular volunteers have been spending their mornings at the Willing Hearts kitchen for years now.
As the pandemic continues to batter the economy, they have seen queues at meal collection points lengthen. The number of packets leaving the facility has risen from 6,500 to more than 9,000 meals a day (daily rice consumption alone is about 800kg).
They get by on donations of produce and food, and work is undertaken by a diverse set of folks from all walks and income groups. Many also chip in to donate food. "When they see something that needs to be done, they just step up and do it," Mr Tay said.
Volunteers Include Those Who Have Lost Jobs
Still, for about two to three weeks at the start of the Circuit Breaker, a spike in the demand for meals had to be managed by only 20 volunteers.
The rest were kept home by job-related upheavals and social distancing restrictions. Now, as the economy reopens, the charity is finally regaining participants, while preparing to respond to new challenges.
Adding to Mr Tay's observations, Willing Hearts' president Teh Eng Hua said its volunteer profile reflects the times.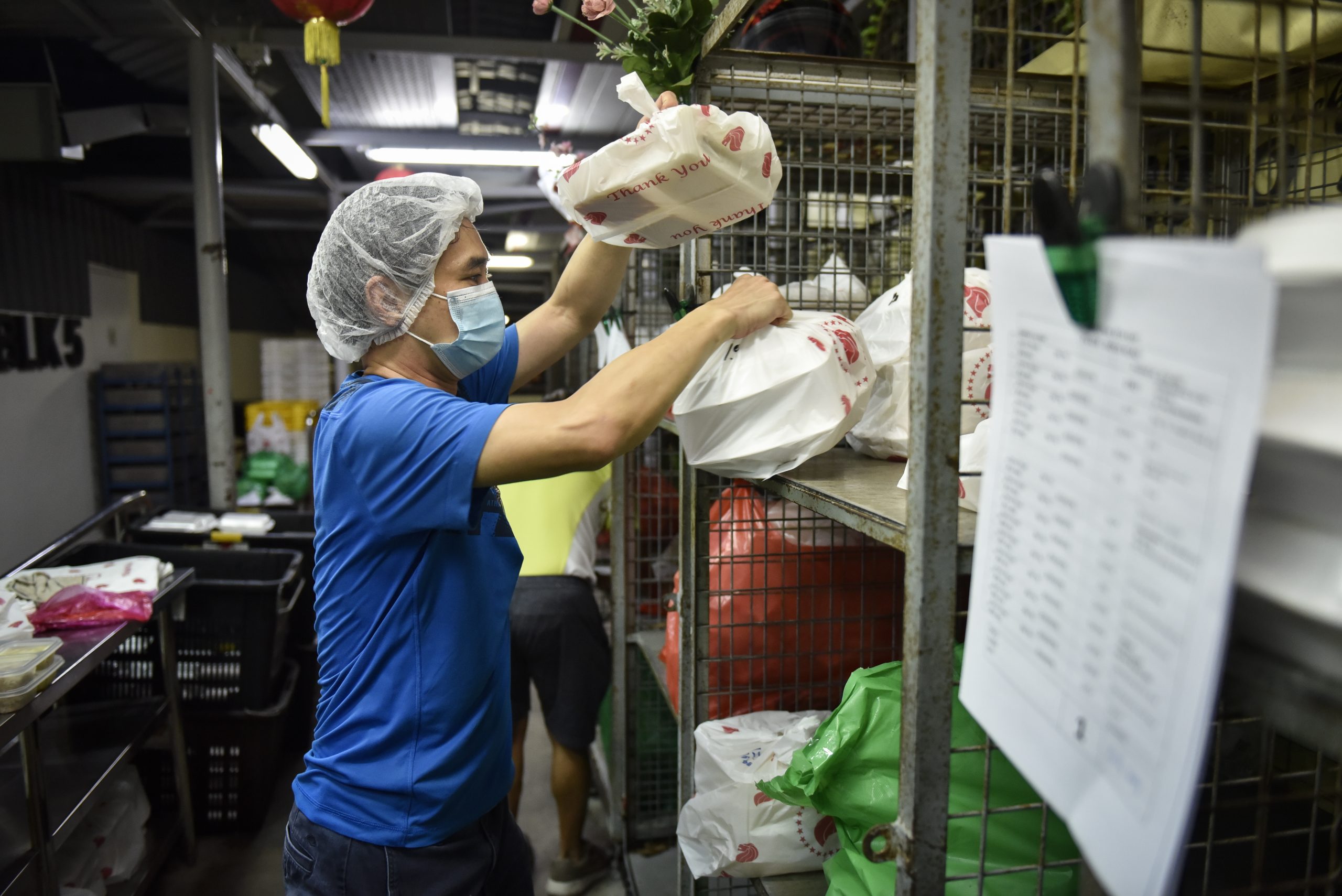 (Above) A volunteer sorts out the packets of food for loading into delivery vehicles.
They now include many who have lost jobs or are on furlough, who are contributing their efforts despite personal circumstances. Joining the pre-pandemic regulars, they sign up, encouraged by the reflection and sharing of others who work there. 
"Volunteers come, reflect and share, that's how we keep this going. We don't spend any money on marketing." said Mr Tay.
As job losses continue, the charity plans to move into a larger facility that can cater to different cultural palates: vegetarian and non-vegetarian for Indian and Chinese communities, as well as halal food for Muslims. 
(Above) All packed meals are loaded into private cars, taxis, vans and lorries fill the driveway at collection time, bound for their respective distribution points. Mr Tay makes a food delivery in the morning too, after supervising work in the kitchen.
"We need cash donations, as well as volunteers," said Willing Hearts' president, Mr Teh, 64, who is studying the needs of those they serve. "We want to serve people better, and serve more."
"Volunteers come, reflect and share, that's how we keep this going. We don't spend any money on marketing."
Mr Tay, 74, has won accolades for his achievements galvanising folks to help others. He said everyone pitches in for free, with just three drivers, three administrators, four cooks and two cleaners on the Willing Hearts' payroll. 
He won the 2013 President's Volunteerism & Philanthropy Awards (Individual), an experience that he credits as raising the profile of Willing Hearts' work and giving it credibility. But, he pragmatically describes his personal take as this: "I wore a suit and went to collect the award. Then I came back here and did what I have to do (in the kitchen)."
After that, Mr Tay went on to achieve regional recognition in 2017, when he received the Philippines' Magsaysay awards from the Ramon Magsaysay Awards Foundation, which came with a sum of US$50,000 (approximately $67,880). 
"This allowed me and my team to look further ashore to help beyond Singapore," he said. "I have led feeding missions to the Philippines, and this added value to our work and excitement to current and pioneering members of the Willing Hearts."
(Above) Volunteers packing food have to wear a hairnet, apron and gloves, which are all provided at the kitchen. To give volunteers more flexibility, there are four shifts each day that they can sign-up for online..
The charity helped set up a farm in the Philippines that rears chicken and fish, and grows vegetables, and plans to bottle water for sale to keep these operations sustainable. Willing Hearts has its sights set on expanding its work to Myanmar and Vietnam too. 
Here, cash donations are needed to support a larger cooking facility to cater for different cultural tastes, including vegetarian options for Indian and Chinese communities, as well as halal options for Muslims. 
It's also working towards operating a shelter for the homeless, which can also support their training needs. Said Mr Tay: "No one suffers from giving with their heart."
If you know someone like Mr Tony Tay of Willing Hearts, nominate him or her for the President's Volunteerism & Philanthropy Awards 2020 Special Edition -Our Finest Hour in the City of Good. Closing date: 21 August 2020.
---