November 2, 2020
Photos by: Bryan van der Beek | Words by: Serene Goh
(Photo above) Twenty volunteer befrienders from the Alliance of Guest Workers Outreach (AGWO) meet up with migrant workers for the first time outside a factory converted dormitory in Tuas.
A man who comes to Singapore with dreams can soon forget them. 
As expectations of a better life gave way to the reality of life in crowded quarters, debt settlement and distance from families, a guest worker once told Reverend Samuel Gift Stephen: "Dreams are not for people like me." 
Yet there's never been a more critical need for the migrant worker community here to look ahead to better days. 
After the initial dread of waiting to catch the fatal disease spreading across dorms, they now face Covid-19's lashings of limbo and the inability to work — hope deferred — leaving them with varying degrees of depression. 
Working with those in more than 300 dormitories islandwide, Rev Stephen observes: "They have fear of losing jobs, getting the virus, and of what's going to happen to their families back home."

Recently, at 2.45am, he talked a man out of suicide. Terminated from his job, he'd been rough sleeping, and had a brush with the law. Defeated, he told Rev Stephen: "Please ask my mother to forgive me."
"I sat down with him and started to speak to him," said the committee chairman of the Alliance of Guest Workers Outreach (AGWO), and vice-president of Hope Initiative Alliance (HIA). Rev Stephen got him to open up to questions that drew his attention away from the current situation, and look instead to the future. To hope again.
(Above) Befrienders had a chance to chat with migrant workers they were paired with, and traded personal stories and contact information in order to keep in touch.
Over the past few weeks, he's saved three lives being a befriender, boning up on questioning techniques intended to restore a sense of wellbeing to those mired in personal and financial woes. 
"I managed to rescue three guys on the verge of suicide," he said, adding that he was among 150 AGWO volunteers who received training to become befrienders by a specialist in depression counselling.
Rev Stephen typically spends anywhere from 40 minutes to a few hours, sometimes continuously over two to three days, offering them self-help tools to manage their stress. Without encouraging a dependence on him: "We create the support system, and give them self-help tools so they can help themselves. It has really been very helpful.
"They have been locked up, put into a room, 24/7, for about five months. They felt imprisoned. It is an isolation, and it can break someone down."
Exacerbating their issues is the despair of being cooped up, even on their days off. 
"They have been locked up, put into a room, 24/7, for about five months. They felt imprisoned. It is an isolation, and it can break someone down. These are men from different nationalities. Bangladeshi, Thais, and South Asians, and there are cultural differences — just how much can you be with someone?"
What's more, the very reason they came — to earn money — is also beyond their reach. "They are getting just a fraction of what they were previously earning. There are bills to pay from the past five months. Debts have accumulated."
Hotlines for guest workers have received tens of thousands of calls in the past six months, from men of different nationalities (South Asians, Chinese and others). These include needs-based calls about a lack of food or money, laced with anxiety or severe depression.
Even so, South Asian men, he observed, do not share emotions easily, and like to portray themselves as strong. They don't like speaking to strangers. They tend to focus on work when they are down. Without manual tasks to engage them, he notes, they are at a loss.
Step up to eradicate poverty
It helps that Rev Stephen has become a confidante among guest workers since the start of the pandemic. With AGWO volunteers, he gets them to open up about their high stress levels — a type of emotional triage.
He's also helped to diffuse altercations that break out among cultural groups in certain dormitories, or calm behaviours such as that of a man who spent hours banging his head against a stone wall. 
Then there's a programme the AGWO has rolled out called Step Up, which aims to provide concrete plans and roadmaps for workers who have lost their jobs here.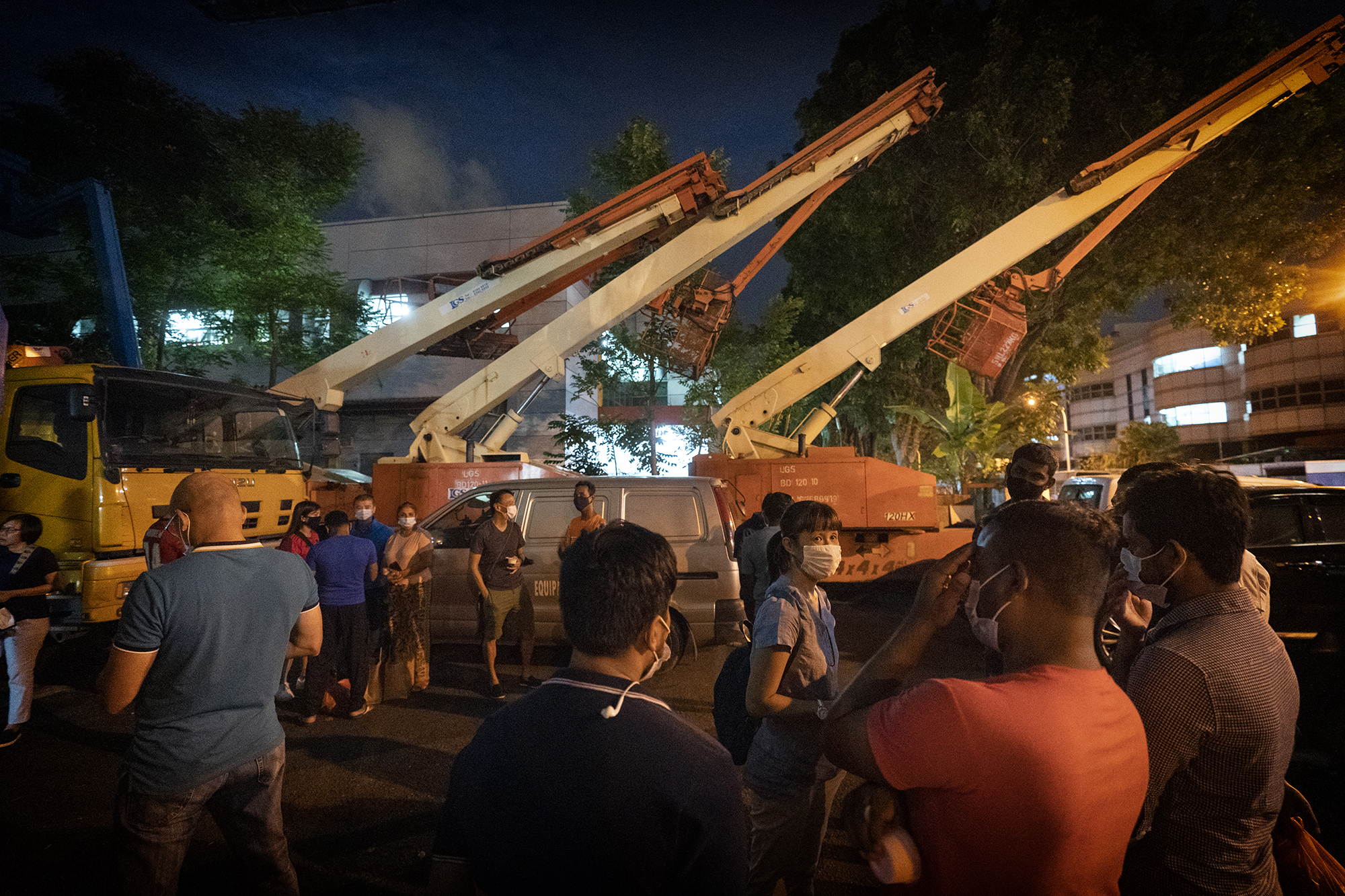 (Above) Befrienders from AGWO help identify tangible solutions to overcome their challenging circumstances.
Over Zoom and small group meetings, Rev Stephen and his teams speak with them to identify skills they have, and shape concrete roadmaps to restore their livelihoods when they return to their home countries. The clear steps act as mental handrails they can cling to, regaining the self-confidence needed to rebuild their lives.
In a recent case, Bangladeshi worker Mr Sajal Alamin, 29, despaired so much about returning home burdened by debt, he confessed he felt he might as well die. 
Over a series of solution-focused dialogues, the team and Rev Stephen helped him realise he already had enough know-how to start his own T-shirt printing business with his prior work experience. The group guided him towards self-sufficiency, while raising funds for two machines to start him off.
In fact, it brokered an order of 500 T-shirts to launch his business, and through the scheme, Mr Sajal will be able to repay a loan of about $2,200 over three years. He now aims to make more than what he was previously making here, by supplementing his business taking as an Uber motorcycle rider.
"Because of the current situation, they have no ability to dream dreams. Through this, AGWO hopes to help guest workers to dream dreams again."
Rev Stephen regards the community as his brothers. When he became senior pastor at Smyrna Assembly in 2008, he and his team set up a Smryna Assembly Mission for Education (SAME), to empower and help guest workers upgrade their skills. They could then learn English, computer skills, Autocad (industrial design), and financial management, among others.
As he stepped down in 2018 to focus on AGWO, Rev Stephen has deepened his commitment to empowering his brothers. 
A dream, he said, can save a life. Mr Sajal, no longer despondent, recently returned to Bangladesh to reunite with his wife and two children. 
"Because of the current situation, they have no ability to dream dreams," Rev Stephen said. Befrienders help identify tangible solutions to overcome their circumstances. "Through this, AGWO hopes to help guest workers to dream dreams again." 
Read more about how Rev Samuel Gift Stephen led the distribution of meals to workers confined to dormitory quarters during the Circuit Breaker.
Find out how you can help adopt a dormitory or assist with the Alliance of Guest Workers Outreach at www.hia.sg/guestworkers
---
Register now to hear from Reverend Samuel Gift Stephen and other PVPA 2020 Special Edition awardees at the virtual TEDxSingapore Salon sessions, "Our Finest Hour in the City of Good". The third session takes place November 7, 11am, with "Leaders of Good" winners and special commendation awardees. Check out the full list of PVPA 2020 Special Edition awardees at Cityofgood.sg/PVPA
---