July 28, 2020
Photos by: Caroline Chia | Words by: Judith Tan
(Photo above) Mr Matlisah bin Chela, 74, enjoys the weekdays at the Assisi Hospice Day Care Centre where he undergoes art therapy and guided exercises together with friends.
While most people suffer from Monday blues, Mr Matlisah bin Chela, 74, looks forward to the start of the week when he returns to the Assisi Hospice Day Care.
"I like it because I have friends here; there are people to chat with me. I chat with both the staff and other patients," he says of the community spirit he experiences at the day care centre. "At home I am usually alone."
In fact, for more than 40 years of his life, Mr Matlisah had been a wanderer, living under the stars without a roof over his head.
(Above) Since joining the Assisi Hospice Day Care Centre, Mr Matlisah says he has found love and happiness engaging with other patients and staff, including Mr Iryadi Bin Bardron, therapy aide (centre) and Mr Calvin Pang, art therapist (right).
He was barely one when his father died and his mother, who was from Indonesia, went back, leaving him in the care of his grandmother. Mr Matlisah dropped out of school when he was just 12 to supplement the family's income by fishing using an old sampan. He became very independent.
He was 20 when he was relocated from offshore island Pulau Bukom, the safe haven he grew up in, and moved to the main island of Singapore. Without a proper home, Mr Matlisah moved from one relative to another, from one friend to another.
Living Without a Roof Over His Head
With little education, he could only work for a vegetable wholesaler in Beach Road, cleaning vegetable debris during the day, and sleeping in the lorries parked there at night. He even used cardboards to create makeshift shelters.
All he had with him was a plastic bag with a few sets of T-shirts and shorts, but Mr Matlisah was never envious of others his age, who were earning more than him, with roofs over their heads and their own families.
"They are them and I am me, I don't compare myself with others," he says.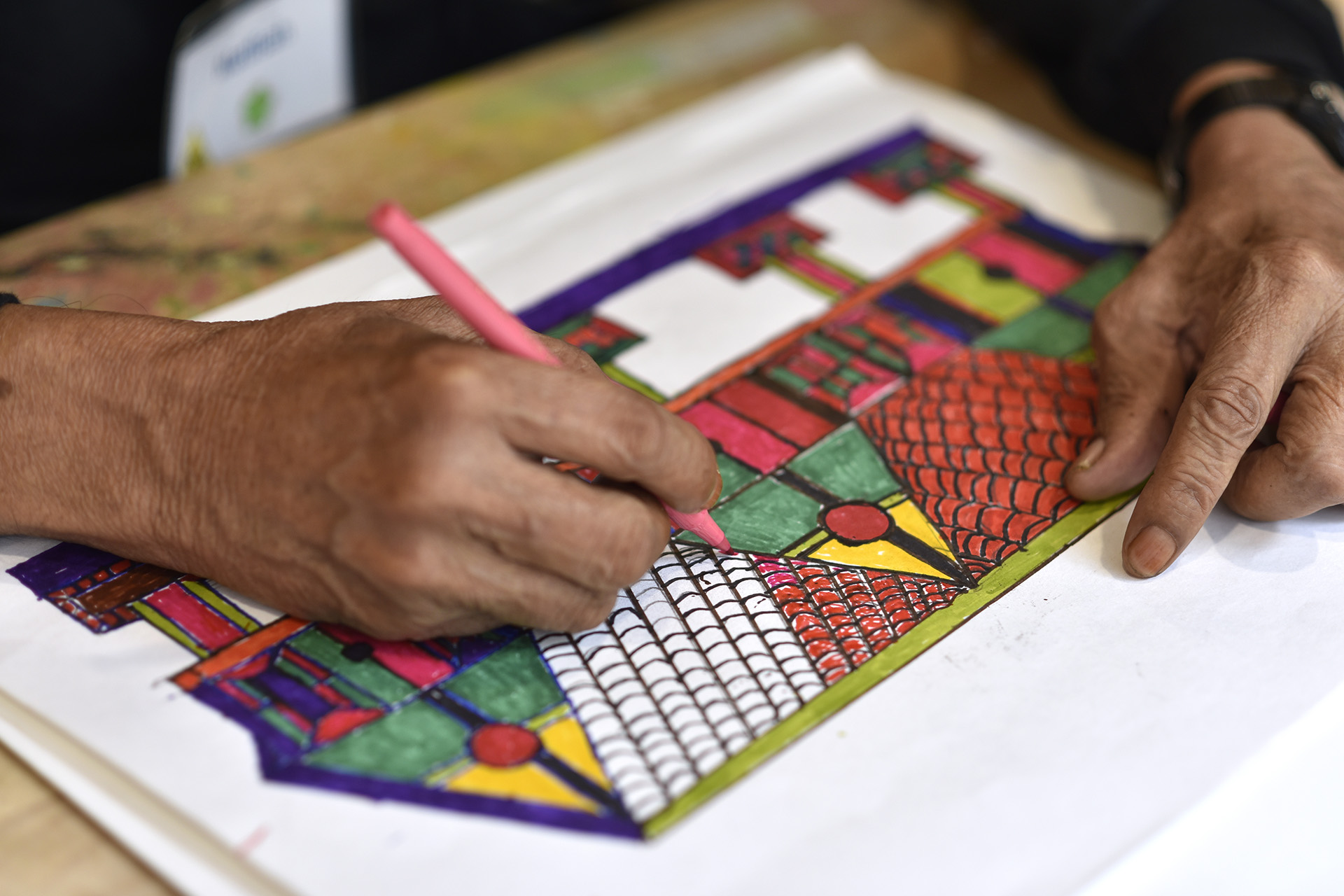 (Above) Mr Matlisah reminisces about his past through drawing and painting during art therapy.
Unfortunately, he lost his job when the wholesaler moved to the Pasir Panjang Wholesale Centre. The versatile Mr Matlisah became a cleaner for a company located in Kallang. But he continued his wandering lifestyle, sometimes staying in the storeroom at his workplace, or at the void decks along Kallang River. He moved around constantly to avoid being chased away by security guards and the authorities.
Such was his life, with no sense of stability or security — things everyone often takes for granted. This wandering lifestyle came to a standstill only when he fainted one day.
When Illness Took Hold
"I was then about 55 years old. I had slight asthma and chronic leg pain before that, but no severe breathlessness until that day," he says, adding that he would only consult the doctor for those ailments.
"For minor illnesses, I would self-medicate," he says.
He was diagnosed with Chronic Obstructive Pulmonary Disease (COPD) and was warded at the Singapore General Hospital (SGH) for three months — being in Intensive Care half the time.
(Above) The Assisi Hospice Day Care Centre assists patients with their mobility through guided exercises.
According to the Mayo Clinic in the United States, COPD is a chronic inflammatory lung disease that causes obstructed airflow from the lungs. Its symptoms include breathing difficulty, cough, mucus (sputum) production and wheezing. It is typically caused by long-term exposure to irritating gases or particulate matter, most often from cigarette smoke.
People with COPD are at increased risk of developing heart disease, lung cancer and a variety of other conditions.
"I have friends here (at Assisi Hospice Day Care Centre); there are people to chat with me. I chat with both the staff and other patients."
After he was discharged from the hospital, his life became more stable. One of his friends invited him to share a one-room rental flat at French Road. Finally, Mr Matlisah, now plagued with the shortness of breath and pain in his knees, has a roof over his head.
Benefitting from Hospice Care
He was admitted as a patient of Assisi Hospice Day Care Centre in February 2020. As he was dependent on a wheelchair to move around for long distance, the charity secured an air cushion for his wheelchair to make him more comfortable, provides him with supermarket vouchers to ease his financial burden, and has given him a basic handphone so he is able to contact the hospice and other social service organisations supporting him.
He particularly loves the art therapy activities that enable him to reminisce about his past through drawing and painting.
Mr Matlisah says since coming to the Assisi Hospice Day Care on weekdays, he has finally found "love and happiness".
Visit Assisi Hospice to find out how you can contribute to the charity or donate through www.giving.sg/assisi-hospice.
Read more about how Community charities, volunteers and beneficiaries are coping during Covid-19 in Singapore at Redefining Community Service in a Socially-Distanced World.
---
Catch The City of Good Show, Episode 5, July 29, 8pm, Live on Facebook. Support Community charities such as Assisi Hospice with the Dream Academy gang on HOME IMPROVment. The sector enhances the well-being of the community, with its professionals and volunteers working relentlessly to help families and individuals overcome issues.
Play your part and support the charities at Giving.sg – The City of Good Show: Community
---