September 29, 2020
Photos by: Caroline Chia | Words by: Justin Lim
(Photo above) Ms Annie Lyn A. Mirasol (in the yellow life vest) paddling with fellow teammates. She spends her weekends doing sports and has participated in several dragon boat races here.
F
ive women dragon boat enthusiasts breezed past their peers of foreign domestic workers (FDW) at the Kallang Wave Mall. 
On a recent Sunday afternoon, the team of FDWs was eager to start paddling, a weekly habit of spending their rest days training hard, determined to upkeep their standards for local dragon-boat races. 
Part of Race2Share, an advocacy group for sport for social impact, they represent just five out of a total 55 active members in its network who, in addition to paddling, also cycle and run long-distance. Its dragon boaters spend up to two hours each time perfecting their glide across the Kallang River — sessions so precious they only cancel when the weather beats them.
The person behind the ground-up initiative is Ms Jen Macapagal, 32, a programme manager and team lead at financial training company, Alpha Development.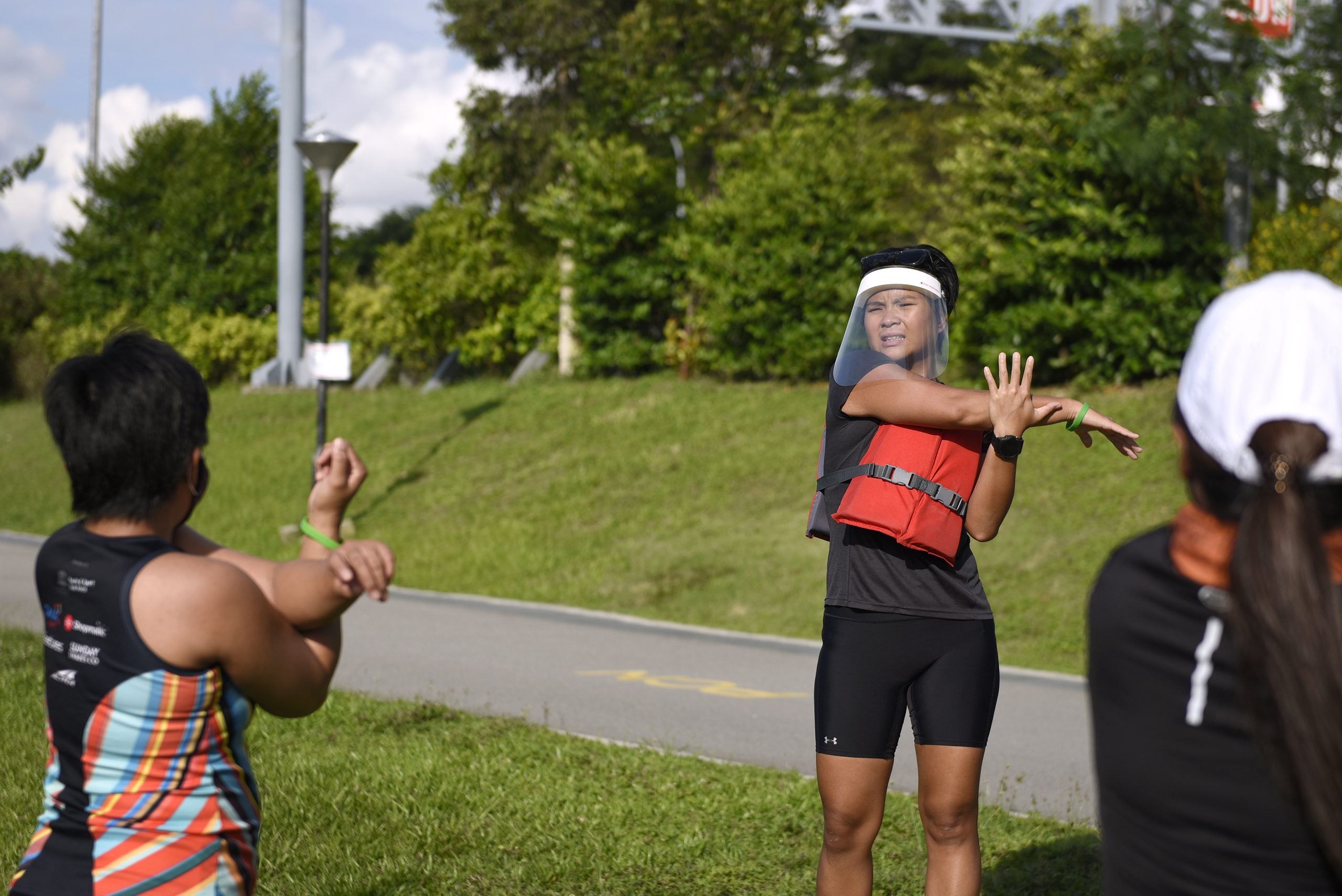 (Above) Race2Share's founder, Ms Jen Macapagal, leads the team in warm-up exercises in the afternoon sun. She confesses that she used to lead an unhealthy lifestyle due to the stresses of work here. These days, having friends to train with her is an added motivation for her to stay fit and healthy.
At the outset in 2015, her goal was to raise funds to support other cause-based organisations through sport. But by 2016, the group began working with FDWs to realise their potential, and responded to an eagerness among their community to be more involved in sports and fitness.
Ms Macapagal, a Filipina, has a mission to raise self-esteem among helpers, by enabling equal access to sporting activities: "Do not belittle yourself, even if you are a foreign domestic worker, you can still take part in activities like this."
Since restrictions eased on social gatherings, the group has resumed training outdoors. However planning for each training session is no simple matter. Ms Macapagal now has to coordinate everyone's availability and schedule training sessions.
(Above) Members from Race2Share paddle across the Kallang River on a Sunday afternoon for their weekly training. Due to safe distancing restrictions, only five members can attend dragon boat training sessions at any one time.
Supportive employers encourage FDWs to stay fit
Employers' house rules, such as start and return times, don't always make it easy for FDWs to be involved in competitive or team sports. 
Members such as Ms Annie Lyn A. Mirasol and Ms Lena (who prefers to be referred to as Lena),  have the full backing of their employers, who want to see them excel at their own interests, and maintain their physical and mental wellness. 
Until she began working for her current employers of three years, a Russian/Australian family with sports backgrounds, 41-year-old Ms Mirasol, a Filipina with a love for sports, could not participate because of previous employer restrictions. 
But her current ones value outdoor workouts, she said: "They are happy that I have a meaningful Sunday."
In fact, even before she chanced upon the Race2Share Facebook page and signed up, she spent Sundays working out at the ActiveSG gym in Clementi.
"Do not belittle yourself, even if you are a foreign domestic worker, you can still take part in activities like this."
Ms Jen Macapagal, programme manager and founder of Race2Share 
For Ms Lena, a 32-year-old Indonesian, Sundays were designated for reading to improve her English. She confesses she was even afraid to get a tan, and was hesitant when a friend invited her to a training session. 
Yet she's been hooked since her first session. Smiling, she added that her American/New Zealand employers "are very, very happy" with her participation.
Members initially had to fork out a monthly fee of $20 to sustain training sessions and rental of the boats. Now, with generous contributions from individuals and corporate donors, they are able to defray that cost.
(Above) Members from Race2Share participate in the Rapha Women's 100 challenge, which involves women from all over the world cycling 100km within a day. The group started their ride at the Merlion park shortly after 7am and kept to a comfortable pace to accommodate everyone.
From time to time, other local and expatriate dragon boat teams also loan their boats to Race2Share for their training. The loaner for September 20, for instance, came from multicultural mixed dragon boat team, Armada Dragons.
The group's newest enabler, the UNESCO Bangkok office, has partnered with Race2Share to support and fund the organisation's Project #ChangeTheWayWePlay, which was set up in response to Covid-19. The initiative by Race2Share aims to utilise sport and fitness as a platform to promote physical and mental well-being through the global pandemic. 
With this funding, Race2Share hopes to reach out to more foreign domestic workers (FDWs) through its programmes and offer safe space for FDWs to participate, engage and encourage one another to pick up a more active lifestyle, guided by a community of athlete volunteers.
Keeping fit throughout lockdown meant running before starting work
On July 12, when the Circuit Breaker was lifted, their paddles finally touched the water again.
On half boats that can take up to 12 — these usually carry five pairs of paddlers and a helm — they are now restricted to just five people. 
This means members must take turns to train on the boats. Those who are not scheduled to paddle meet in separate groups of five to run or cycle instead. 
Despite the limitations, they are delighted to finally be able to train with their friends. After all, the months of lockdown had turned the team sport into an individual pursuit. 
(Above) Members of Race2Share prepare to launch a boat at the Kallang River. From time to time, they receive free boat rentals from other dragon boating teams.
Unable to gather, the group's active members moved to Zoom workouts. Far from dampening their spirits, they spurred each other on to complete virtual running races, with seven of them collectively clocking a total of 5,000km during that period alone. 
They squeezed in their runs in the morning before they started work, or in the evenings after they finished. They also spent most of their rest days out running. 
Ms Mirasol's employers encouraged her to get out of the house for fresh air. 
"During the Circuit Breaker period, they were more worried about me, because the restrictions for helpers are very strict, unlike the employers, who are allowed to go out," she said. 
So they got her to take Max, their dog, out for walks, and go to the supermarket twice a week. "They also allowed me to go out for short hikes alone so I can breathe and inhale fresh air."
With encouragement from more employers, Race2Share hopes more FDWs will be able to participate and reap the holistic benefits of sport and fitness.
Find out more about Race2Share and follow them on Facebook and Instagram to keep up to date with their latest activities.
---