November 12, 2020
Photos by: Bryan van der Beek | Words by: Alyssa Marie Loo
(Photo above) A senior at Lions Befrienders Senior Activity Centre reads a handwritten card from Hey, You Got Mail!.
Delivered packages, especially after online shopping, often brightened the humdrum of the Circuit Breaker for many Singaporeans. But instead of feeding into their "compulsive shopping" habit, this group of youth cooked up an initiative that would deliver joy to seniors in the form of personalised handwritten cards.
"The feeling when you receive a parcel, or your friend sends you (snail) mail… because you don't expect (it), there's excitement on a normal day. That is such a nice thing to have and we wanted to share it with others," said Ms Joanne Yep, 20, one of the co-founders of Hey, You Got Mail!. Founded by a group of six friends, the non-profit project sends physical cards to senior centres.
Even in an age when videos or texts can be sent instantly, the team finds there is still something irreplaceable about the analogue.
"(With) a handwritten letter, when you receive one, you can really feel like the person has put in effort to create it. There's more physical connection," shared full-time national serviceman (NSF) Mr Max Chua, 20, one of the group's most regular volunteers.
(Above) Handwritten cards from Hey, You Got Mail! features a bright pop-up rainbow "umbrella" and colourful illustrations, along with handwritten notes.
Mdm Goh Siew Choo, 65, a senior at the Lions Befrienders Senior Activity Centre (SAC), agreed. "It's more real; there is a sense of physicality to it," she replied in Mandarin after receiving a card. "It makes me feel very happy; the design is very pretty!"
The cards each have a pop-up rainbow "umbrella" alongside other colourful illustrations and well-wishes. "Almost (in sync), [the seniors] will marvel at the umbrella design of the second page. When they realise all cards were handmade, they'd ask us how much time was spent on a card," said Ms Natasha Idrus, 23, senior programme executive at Lions Befrienders.
(Above) Volunteers from Hey, You Got Mail! hard at work. They pen personalised messages on each card.
Being handmade means each card requires considerable time and effort. The team spends hours penning messages, gluing the rainbow umbrellas and labelling envelopes. While there is a message template, each volunteer adds a personal touch.
"The last time I came… it was this period where the weather was getting hot and cold. I decided to pen down typical advice that our parents would give: wear more clothes, don't use the fan if it's cooling enough, take shorter showers… I think it's these kinds of small touches that will really help someone," said NSF Mr Eugene Goh, 20, another regular volunteer.
(Above) Seniors at Lions Befrienders Senior Activity Centre received personalised cards in envelopes with their names.
With the extra effort, cards become more meaningful to each senior. "It's something they can bring home," said Ms Idrus, "They will tape it on their fridge, or put it at the dining table. When they see it they'll be reminded that they got it from the centre. Especially since it has their name on it."
Safe distancing measures put a stop to in-person befriending activities at senior centres. "Many other events have tried to make do with the virtual aspect. We don't have many physical events happening. Physical activities are (at most) like ration distribution — it's not very personal," said Ms Idrus. "This is one of the first few personal ones."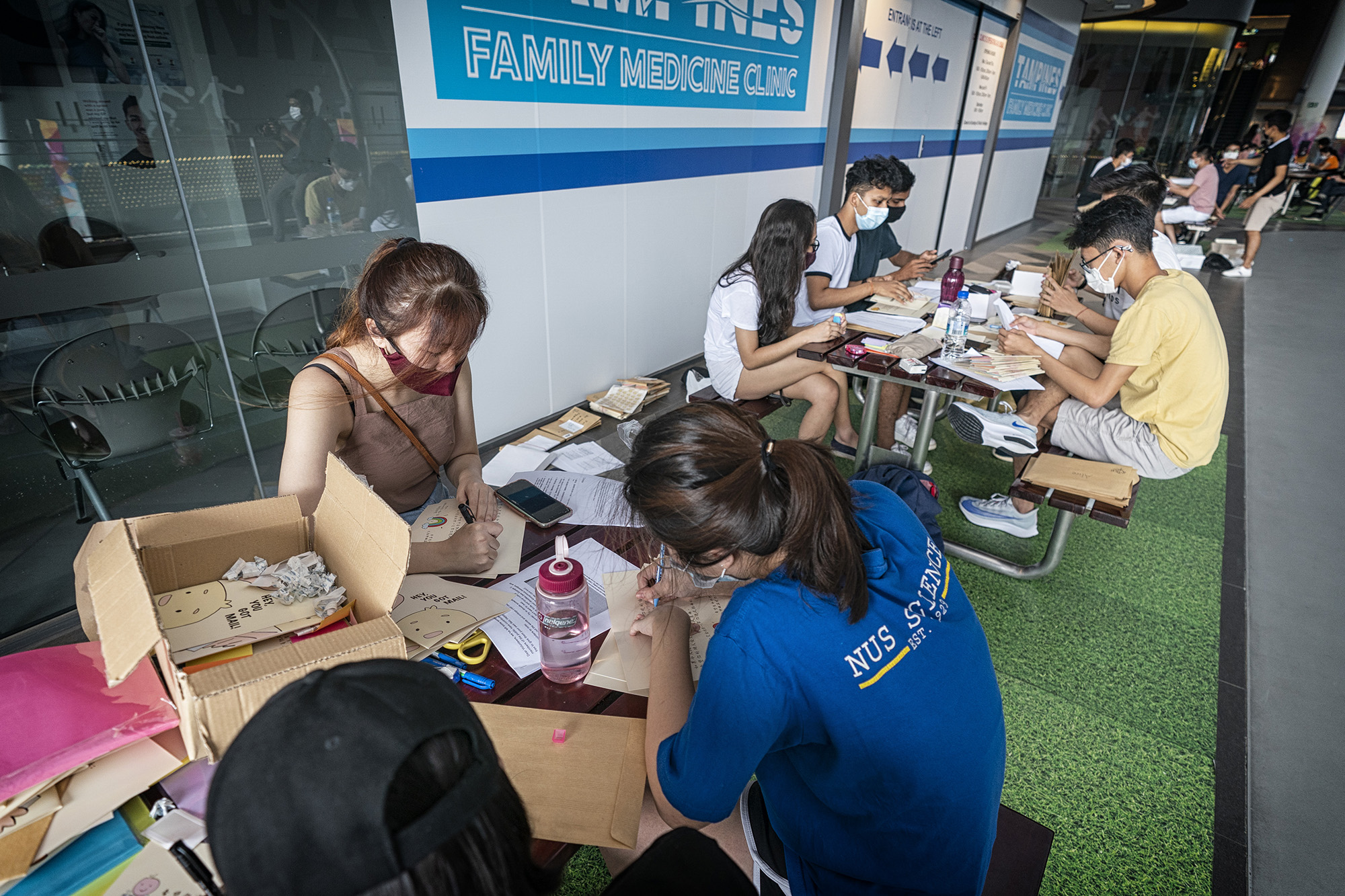 (Above) Volunteers gather at Our Tampines Hub to prepare the cards for seniors. Writing sessions can go on for eight hours, usually from 10am to 6pm.
Moving forward, the group plans to continue leveraging the analogue medium to interact with seniors through a pen pal system. "It's an extension of the letters because it's not just like a one-off basis. We knew the letters were effective in building connections but you want to sustain the relationship between the volunteers and the seniors," shared National University of Singapore (NUS) undergraduate Ms Sofea Selamet, 20, one of the group's longest volunteers who is now leading this next initiative. 
Amidst the virtual meetings and social distancing, the project shows that there is a special value in tangible gifts. "Before Covid-19 no one thought writing letters could be something very meaningful. [We] just message or email," reflected Mr Goh. 
The next time you decide to connect with a friend, it might be worth trading the phone for a pen.
Find out about how you can support Hey, You Got Mail! at www.heyyougotmail.com, or follow them on Instagram @heyyougotmailsg.
---