April 25, 2021
Photos by: Caroline Chia | Words by: Hoo Xin Lin
(Photo above) Rescuers of produce handle the hard work of collecting fruit and vegetables from Pasir Panjang Wholesale Market.

F
ood bound for bins is being rehoused in community fridges islandwide, reducing waste while feeding those in need. 
Each Tuesday, Fridge Restock Community SG drives around the island to help restock up to six "freedges" islandwide. Its volunteers, grouped into "drivers" and "rescuers", collect surplus produce from Pasir Panjang Wholesale Centre, then distribute them. They also help out with SG Food Rescue's Little India Veggie Collection on Fridays.
Collecting, sorting and transferring heavy boxes of produce is laborious, but volunteer Ms Bridget Yeo says: "It's heartwarming to see the residents waiting for us at the community fridges in Tampines. They wave at us when we arrive and clearly look forward to our restock."
The community fridges are convenient distribution points for surplus food. 
The concept of food salvage is not new. But it is believed to have taken off in Germany sometime in 2012. Since then, it has been co-opted around the world, where networks of them have become a lifeline for communities in need. Typically, these fridges are accessible round-the-clock, for nearby residents to give and take food.
(Above) Circling the market mid-morning, volunteers work with fully loaded trolleys to reduce the number of trips back to the loading bay. Vendors there recognise them as a regular weekly fixture, and often have donations piled up and ready for rescue.
The practice began here in 2017, with the first fridge installed at Block 441 on Tampines Street 43. Since then, more neighbourhoods have adopted the idea, operated by Residents' Committees (RCs) and smaller community groups. 
Fridges can now be found in Woodlands, Yishun, Teck Whye, Stirling Road, Toa Payoh and Punggol, among other estates.
(Above) Fruits and vegetables deemed "ugly" are hefted into car boots and lorries, bound for some chilling, within easy reach by the neighbourhood's residents.
They address the issue of food waste in Singapore, an island that, despite its small size, discards up to 744 million kilograms of food in 2019, state latest figures from the National Environment Agency (NEA). 
Food waste ranks among the biggest sources of waste here, and more than half of that volume are leftovers or expired food which could have fed at least a million people in a year. 
The initiative is led by Mr Daniel Yap. 
Mr Yap was a long-time volunteer with ground-up initiative SG Food Rescue, before he branched off to head a separate Fridge Restock Community SG programme in June last year that repurposes unwanted food and distributes them to community fridges. 
He is assisted by Mr Daniel Tay, co-founder of SG Food Rescue, who currently acts as an advisor to Fridge Restock Community SG.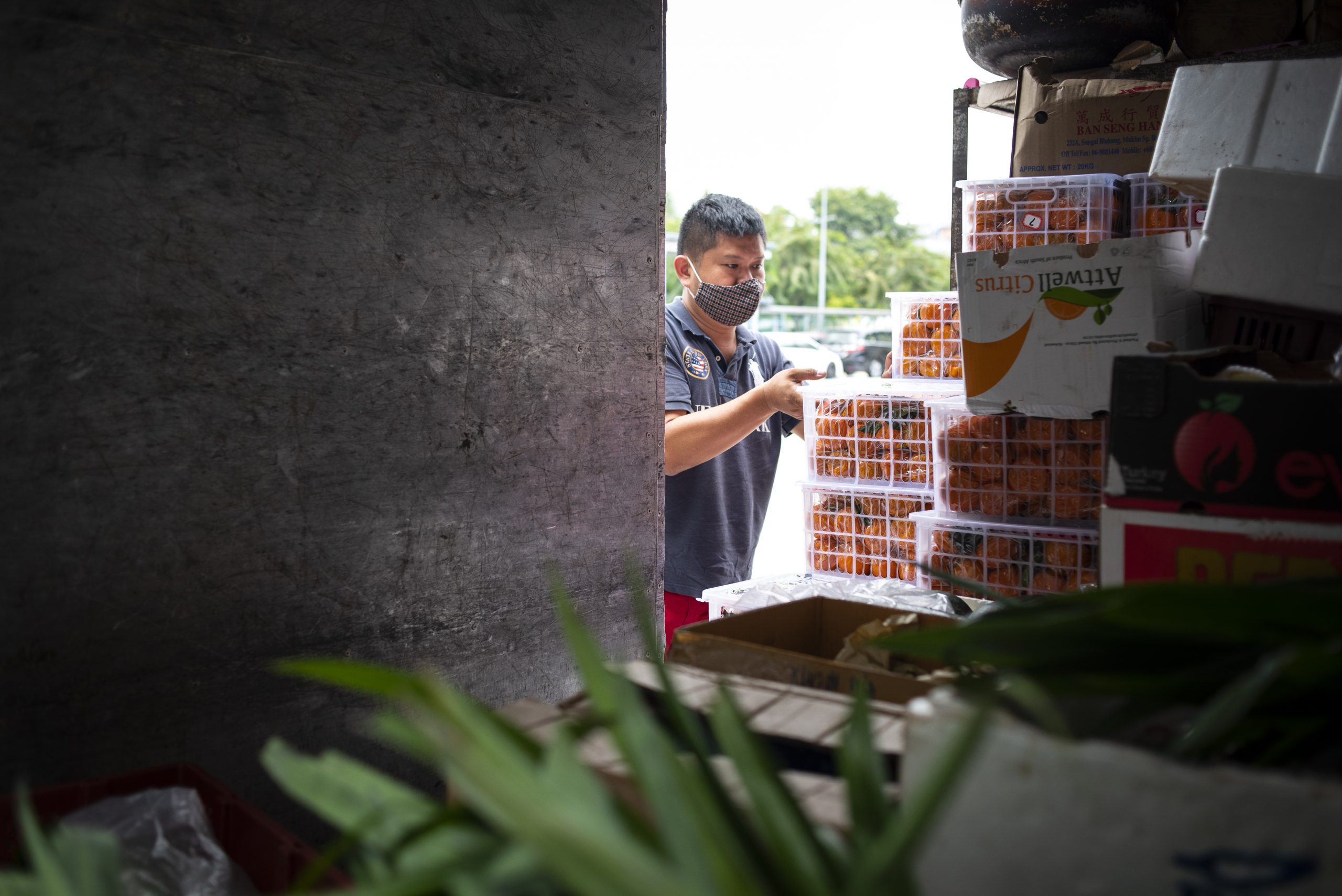 (Above) Daniel Yap, founder of Fridge Restock Community SG, sorting and unloading rescued produce from his lorry. FRC works with its network of about 10 "freedges" in neighbourhoods such as Punggol, Woodlands, Marine Terrace, Bedok Reservoir, Tampines, Teck Whye and Stirling, among others.
Just Chilling
The fridge at the first-floor corner of Block 20 Marine Terrace is usually filled with fruit and vegetables close to expiry. 
Neighbourhood volunteers have streamlined the distribution process, stationing themselves by boxes to help residents pack food, while ensuring something for everyone. At a restock on March 11, small cardboard queue numbers were handed out to Marine Terrace residents so that they could wait their turn without crowding. 
"Some elderly residents live alone and don't leave their home often. When you pass them food, it's also a way to check on how they are doing. By chatting with them, you find out what else they would need."
Madam Sandy Goh, coordinator for Block 702 Bedok Reservoir Road
Even rotten produce doesn't go to waste. Ms Shirley Yong, chairperson of the Marine Terrace Breeze Residents' Committee, said a new interest group will soon teach residents how to make fertiliser from spoilt produce. 
"There were many considerations when I first wanted to bring in this fridge. What if residents put in expired food, what if people are inconsiderate… But these are all what-if's," she mused, adding that its benefit has outweighed these concerns. 
"Thanks to our group of active and involved volunteers, we are seeing more residents benefiting from our programmes." One resident who'd lost her job came to thank them for defraying her food expenses, she said. "Our hearts went out to her."
(Above) Volunteers helping to distribute rescued fruit and vegetables to residents at Block 20 Marine Terrace, reserving some for those with mobility issues. Residents are encouraged to take only what they need, so that everyone gets some food.
Not a one-size-fits-all approach
Each neighbourhood has its own take on managing its community fridge. Some leave their fridges unlocked at all times.
Others, such as the two large ones at a Senior Citizen's Corner in the void deck of Block 702 Bedok Reservoir Road, are usually padlocked. It holds food reserved for residents with mobility issues.
Madam Sandy Goh, a longtime volunteer, helps to coordinate the effort. 
She said: "Some elderly residents live alone and don't leave their home often. When you pass them food, it's also a way to check on how they are doing. By chatting with them, you find out what else they would need." 
"People ask me how they can help? I tell them to ask their MP for a fridge. Then, help maintain the fridges. We always need people for it."
Mr Daniel Tay, co-founder of SG Food Rescue
In the past, several community fridges were forced to shut down owing to complaints about clutter and noise. But such issues usually stem from having insufficient volunteers to manage the fridges and their surroundings. 
Conflict can arise when some residents hoard food items without consideration for others. But Mr Tay points out that Fridge Restock Community SG has the unique advantage of being able to fill the fridges with say, only one type of vegetable or fruit.
He says with a grin: "One person cannot take a hundred cucumbers, but a hundred persons can take one cucumber each." 
"There's definitely room for more community fridges in Singapore because we rescue lots of food and there's not enough places to send them to," Mr Tay tells WhatAreYouDoing.sg. 
"People ask me how they can help? I tell them to ask their MP for a fridge. Then, help their communities maintain the fridges. We always need people for it."