May 20, 2020
Photos by: Caroline Chia | Words by: Stacey Rodrigues
(Photo above) Nailed it. Cooks start work in the kitchen daily at around 10am and are done by noon. Having to cook more than 400 meals at one go, compared to 50 meals every day at Straits Clan, was a challenge for everyone. It took the team about a week to get the hang of things.
Chefs Daniel Sia of The Lo & Behold Group and Damian D'Silva of Kin, together with other top chefs in the country, joined their recipes and hearts to provide meals for more than 400 migrant workers in need of food support.
Singapore's circuit breaker restrictions in early April left many F&B businesses challenged to find new ways to engage with their public, as they closed their doors to dine-in customers.
Mr Daniel Sia, 43, culinary director at The Lo & Behold Group saw the opportunity to contribute to relief efforts, using his kitchen at private members' club Straits Clan to prepare meals for migrant workers – the community most impacted by COVID-19.
You could call him the Nick Fury to an Avengers-like team of chefs who, combining their cooking powers, turned their skills for haute cuisine towards a community kitchen that cooked and prepared $2 meals.
As the team at The Lo & Behold Group researched beneficiaries with the most critical needs, they were introduced to the Alliance of Guest Workers Outreach (AGWO), a part of the Hope Initiative Alliance (HIA).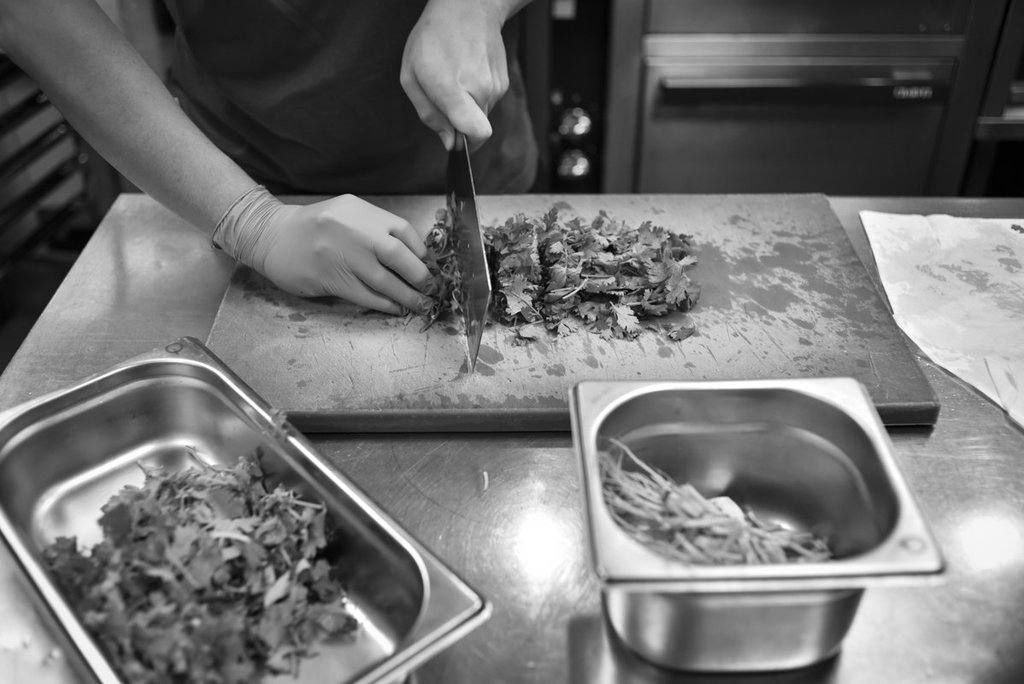 (Above) All on board. Straits Clan Community Kitchen partnered with Ugly Food to purchase produce at lower prices. This kept the cost of each meal to $2. There were also some private donors who chipped in for the project. This included a woman who decided to buy eggs for the migrants to add more protein to their meals.
"In mid-April, Rev. Samuel Gift Stephen, chairman of the AGWO, told us about their work to provide essential care packs and two daily meals to about 9,000 migrant workers," said Mr Sia. "It became obvious that we wanted to contribute to their efforts."
AGWO assigned them the Goldmine Energy Tuas Factory-Converted Dormitory in April. By May, they were also sending meals to Eng Soon Dormitory.
(Above) Tray bien. Rice is steamed in trays instead of rice cookers to cater to the 450 meals the kitchen had to prepare.
While they could not churn out the volume of a central kitchen, Mr Sia and his team committed to more than 400 meals a day, working to a cost of about $2 a meal.
Working at lightning speed, the team took 13 days – from initial discussion to the first day of service – to set up the kitchen and bring in partners and manpower needed to run the kitchen.
Some Assembly Required
From April 22 to May 15, 2020, Mr Sia, together with Mr Damian D'Silva, head chef of Kin restaurant and volunteers from Straits Clan formed the Straits Clan Community Kitchen. They contributed 450 meals a day, seven days a week, for workers housed at the two dormitories.
In the beginning, Mr Sia invited other chefs to join him. However, the circuit breaker restrictions meant these chefs could not physically be in the same kitchen. So, while Mr Sia and Mr D'Silva led the team out of the Straits Clan kitchen at Bukit Pasoh Road, several other chefs contributed recipes instead. The remote team included chefs in the group, such as Mr Julien Royer of Odette, Mr Keirin Buck of Le Bon Funk, and Mr Shigeru Koizumi of Esora, as well as other chefs from the wider F&B community, including Mr Jason Tan, Mr Willin Low, Ms Annette Tan, Mr LG Han and Mr Rishi Naleendra.
Together, they brainstormed to get the right recipes for South Asian food that would be both nutritional and comforting to the workers.
(Above) Dahl it up. Curried cabbage and dahl being cooked on the last day of the project. On the menu that day was ponni rice, vegetable rasam, dahl, curried cabbage, a hard-boiled egg and an orange.
"We learnt from speaking to AGWO and other non-profits that the majority of migrant workers are of South Asian origin and were not comfortable with meals of other cuisines that were being provided, for example, Chinese economy rice or Western meals," says Mr Sia.
"We wanted to give them something that would appeal to them. It was a bit challenging because all of us were not used to this type of cuisine. But in the end, it was fun to do the research and we learnt a lot of things."
Despite the challenges of scaling their operations from serving 50 Straits heritage fine-dining meals a day to the 450 meals for dinner daily, the team quickly found ways to adapt to the new mission and completely new ways of working.
"We are very proud and fortunate to have team members who generously gave almost entire days – on their days off – to help run the community kitchen."
Cooking rice, a staple of the South Asian diet, was one such challenge. The team chose to set aside their rice cookers in favour of metal trays to steam the large quantity of rice needed for 450 meals.
(Above) It's in the bag. Food packers arrive at the restaurant by 2pm to pack the meals. All meals are ready to be collected by 5.30pm so they can reach the dormitories before 6.30pm.
(Above) New Straits swing. The dining area of the restaurant was cleared to facilitate the food packing stations. During the first few days, packing 450 meals took up to four hours. But the process was tweaked along the way and packing time was shortened to 2.5 hours in the second week.
(Above) Pitching in. Curried cabbage, one of the dishes prepared on the last day of the project, is packed by volunteers from The Lo & Behold Group venues.
(Above) Split shift. Packing volunteers are split into two groups and they do rotating shifts on different days to minimise contact with others.
Packing of food initially took four hours and the team barely made it in time for its first few deliveries. But once members recalibrated their workflow, they reduced packing time to 2.5 hours.
Mr Sia credits everything coming together to the fact that "everyone is happy to do something for the community".
(Above) In time for Iftar. When Ramadan began, the restaurant brought forward the packing time by 1.5 hours so that the food could be delivered by 6.45pm, before Muslim migrant workers break their fast.
All the manpower came from various teams from The Lo & Behold Group venues and were on a completely voluntary basis. We are very proud and fortunate to have team members who generously gave almost entire days – on their days off – to help run the community kitchen."
The project came to a close on May 15, as the team is preparing to reopen for business, putting new equipment and processes in place for increased hygiene and safety for guests. Mr Sia adds, "we'd [also] like our staff to take some time to rest and be with their families" before they return to work.
(Above) Marathon cooking. Mr Daniel Sia (left), culinary director of The Lo & Behold Group, had previously been involved in cooking meals for migrant workers. But none of those experiences have been as tiring as this one. Preparing over 400 meals a day, seven days a week, is a bit like a marathon, he said. The team may be tired but they are happy to have been able to do something for the community.
---