August 25, 2022
Photo by: Caroline Chia | Words by: Serene Goh
(Photo above) Over her 36 years as a volunteer manager, Sister Bernadette Yap has coached hundreds of people who step forward seeking to help NCSS agencies serve beneficiaries. For nearly 40 years of service, she received the Outstanding Volunteer Award from the Ministry of Social and Family Development in 2018.
Sister Bernadette Yap, 81, at once arrests your attention with her quiet calm. Her evenly paced sentences hint at how she led others as a pioneer volunteer manager with the National Council of Social Service (NCSS). Working behind the scenes, she has moved many to do their best at helping others. 
In 1983, former executive director of the then-Singapore Council of Social Service, Dr Tan Bee Wan, launched the Volunteer Action and Development Centre, which needed volunteer managers to effectively guide people to help full-time social workers.
When Dr Tan approached the Franciscan Missionaries of Mary for a suitable candidate, Sister Majorie, head in charge of the convent, assigned Sr Bernadette: after all, she had prior experience in an administrative role before joining the convent, and she had a gentle influence over others.
Sr Bernadette served as the go-between for volunteers and NCSS' Service Planning and Funding teams, which work with social service agencies to optimise programmes for users. 
(Above) Sister Bernadette Yap's administrative experience working at the advertising department of Cathay Organisation before she joined the Franciscan Missionaries of Mary convent in 1966 made her the right choice for organising volunteer teams.
Where agencies required administrative support, or various tasks completed to aid their beneficiaries, Sr Bernadette would step in to ensure they were done. She would systematically and conscientiously compile specific instructions from various NCSS departments, then brief volunteers. 
But it was her pastoral approach that built rapport among her teams, and sustained them through mundane activities and tough days. She also coached others who showed leadership potential, putting them in charge of smaller groups. 
"My approach would be to supervise them first, [make sure they know] what they're supposed to do, then another person would carry on doing it," she recalls. "Then they'd pass the job from one team to another. So that's teamwork, and they will feel happy about it. It's not one person doing all of the work."
On occasions where miscommunications led to do-overs, she would personally step in. Through it all, she says it is the loyalty and resilience of volunteers that has kept her going.
"Sometimes I tell them, sorry, we have to do everything over again… Can't be helped. Mistakes happen." Now, she fondly looks back on those times, which deepened their camaraderie.
(Above) Sister Bernadette Yap (2nd from left) when she first entered the convent.
Yet each relationship with a newcomer always started simply, with her asking if they'd had previous experience before offering: "Would you like me to help you to do this work the way that I think will help you to carry on as a volunteer?"
She'd call to check on them if she sensed something amiss, comfort those going through challenges in their personal lives, and pray for those who needed her to. 
When they could not fulfil their commitments, she'd tell them: "It is okay if you can't make it. I don't expect 100 per cent. Sometimes they have their own problems. I understand that. I tell them, 'You just come whenever you can and help, that's all. Don't feel that you're obligated. Your obligation is more important at home.'"
She'd often repeat: "Whatever you do, just do it to the best of your ability."
Reciprocating to Sr Bernadette's concern for them, volunteers would rally when she called. Most of them, she said, were "tai tai." 
"They play golf, they play mahjong," she says with a chuckle, adding that they were always consistent. "Whenever they couldn't make it, they would always call ahead. They're very dedicated."
They never shied away from hard work. Ahead of mass events such as the Community Chest's annual Heartstrings Walk, which launched in 1984, teams of about 40 would organise themselves into lines, then labour over long days to sort numerous items into thousands of goodie bags. 
They watched out for each other, heading off ahead of lunch-hour peak times to buy char kway teow for the whole team, or extending hours where needed. 
Such was her impact over nearly four decades as a volunteer manager, she earned the Outstanding Volunteer Award from the Ministry of Social and Family Development in 2018. It acknowledges the generous contributions of those like Sr Bernadette; who even returned to service after recovering from a potentially deadly chest and lung infection in 2015.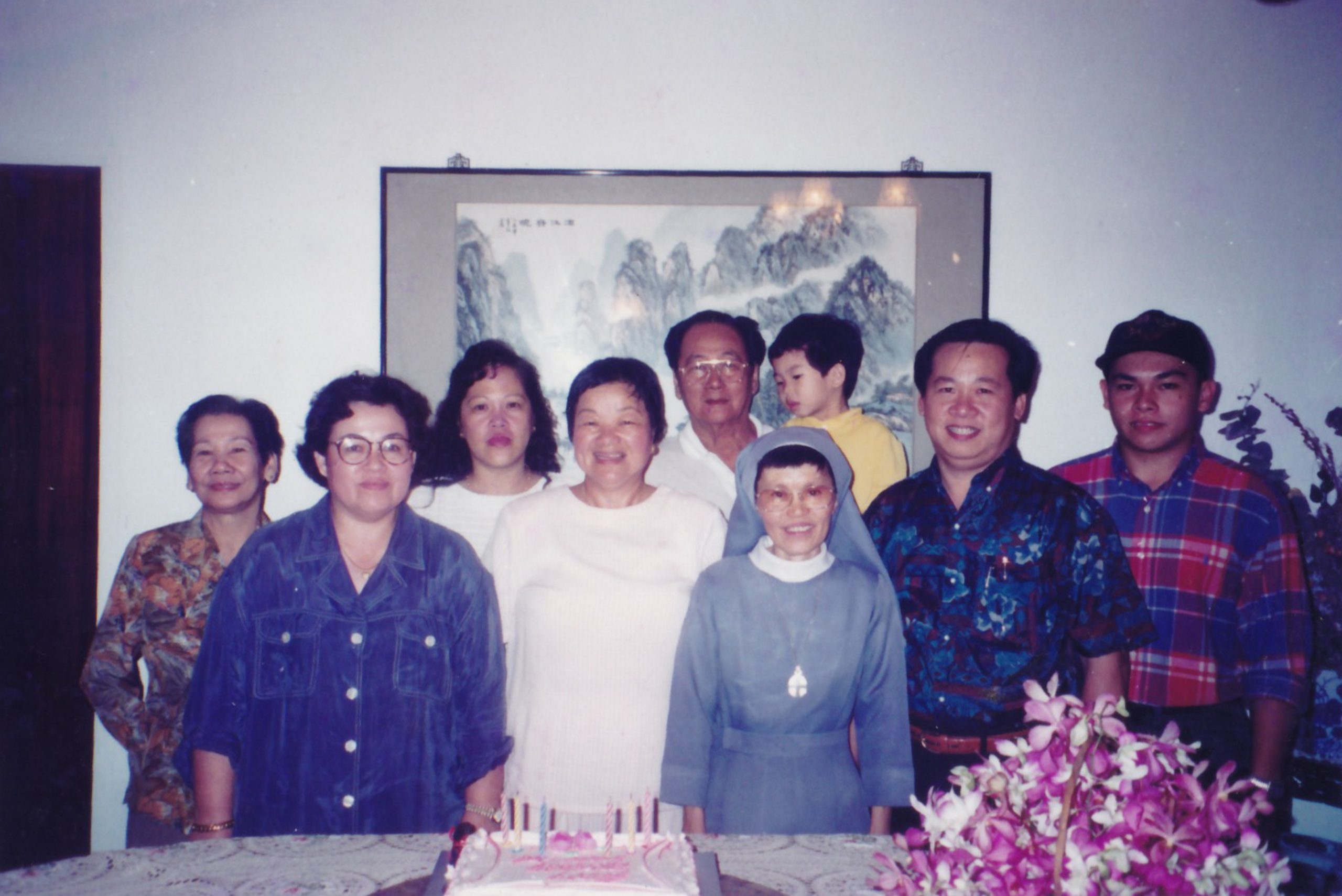 (Above) Sister Bernadette had to overcome initial objections from her mother to join the convent. She is the second eldest among six siblings, who continue to gather for family dinners, along with other relatives.
The courage of her convictions
Before she joined the convent, Sr Bernadette had worked for six years at the advertising department of Cathay Organisation in the 1960s. But she never shook her calling to be a nun. She'd always admired those who taught her while she'd been a convent school student. 
But when she finally made the decision to enter the convent in 1966, at 26, she first had to face an upset mother, a widow with six children who objected to the choice of her second eldest child.
Sr Bernadette managed to talk her round. But she also had to adjust to the austere convent life afterwards.
Nonetheless, she pressed on, and realised she'd made the right choice when she had to minister to trauma victims and patients on their deathbeds. 
At her first assignment in a hospital in the Philippines, she had to comfort a dying man. Despite her first time being confronted by a hysterical patient, she steadied herself, held his hand, and prayed with him until he found peace.
"To minister to sick people who need help is not easy… This is one of the gifts that God has given me."
Sr Bernadette Yap, Franciscan Missionaries of Mary convent
"To minister to sick people who need help is not easy," she said. But she hasn't looked back since. Over the years, she has developed a bedside manner that stills the fears of those facing their darkest moments.
"This is one of the gifts that God has given me," she believes. It's helped her to fulfil her purpose: helping others at their greatest point of need.
Though her work may have been invisible, its impact has been profound, impacting hundreds of volunteers, as well as the organisations she has assisted — the spirit of true volunteerism. 
"I think it's a blessing that the Lord sent these volunteers to me, to be able to help people through NCSS, and carry out the things that NCSS does. For me it's a joy being with these volunteers. They were all very kind." 
---

Sr Bernadette Yap is featured in the NCSS Initiative, Stories from the Heart. This series of human-interest stories was curated in celebration of NCSS' 30th anniversary. Now's your chance to make a change and support the social service sector. If you or your corporate organisation are keen to learn more and participate in NCSS' volunteer management practice, click here.
---