March 7, 2023
Photos by: Caroline Chia & Bryan van der Beek | Words by: Serene Goh
(Photo above) Responding to Bake For Good's "Hazelnut Haven" theme, culinary consultant Ms Annette Tan, @FatFuku, chose to contribute her chocolate cake — a favourite of her godchildren. "Much of the joy of baking is watching someone enjoy your creation… The idea of bringing such a simple joy to a child makes it feel easy to do." PHOTO: CAROLINE CHIA
B
ake For Good (BFG) is on a mission to celebrate birthdays for underprivileged girls and boys with the simple luxury of satisfying, made-at-home cakes. 
Sisters Mabel and Melanie Lim co-founded BFG because occasion treats — and sharing them with friends and loved ones — had always been a joyful feature of their formative years. Now, they hope to enable the same for young people staying in homes and remind them they matter.
Among their first volunteers was social media influencer and culinary consultant  FatFuku, Ms Annette Tan, 50. A food and lifestyle writer for well over 20 years, she's also enjoyed cooking for others for at least twice as long.
Signing up because the initiative was easy for her to commit to, she notes: "Typically, when you volunteer for something, it involves committing a specific number of hours to a cause, which I often feel I don't have.
"With this, every month, I can say, okay, I'll make one cake for a child on this day. It doesn't take that much time and I can do it at home. The idea of making something simple that will bring some joy to a child is appealing too."
(Above) When baking for younger diners, Ms Tan puts more effort into decoration. "With a cake for an adult, you can get away with making it… minimalist. But for my godchildren, for instance, I would decorate it with motifs that they like, or with lots of sprinkles. I decorate the cake based on Bake For Good's theme." PHOTO: CAROLINE CHIA
Over the pandemic, the sisters Lim — like everyone else with a mobile phone and Wi-Fi — found themselves spending an inordinate amount of time on social media exposed to "an almost endless supply" of Instagram goodies sold by stand-out home bakers and bakeries.
All that cake-scrolling led to the germ of an idea: "What if each of these bakers could just bake one extra cake per month and share it with people who might not have the means to enjoy them?" That is, children and youths who are residents at home, who don't get a song or a chance to make a wish by blowing out candles on their special days. 
With the help of family and friends, they contacted every single children's home in Singapore to find those keen on receiving cake donations. Mabel, a 30-year-old marketing professional, added: "Most homes we spoke to do not have sufficient resources to celebrate the residents' birthdays every month." Most were also short-staffed, and couldn't manage to organise personalised cakes for each child. 
"The idea of bringing such a simple joy to a child makes it feel easy to do. You don't even have to be an accomplished baker to participate."
Ms Annette Tan, culinary consultant, FatFuku
So when the pair rolled out BFG's pilot in December 2021, they settled on monthly celebrations, with surprise themes. In the ensuing 2022, they rallied home bakers nationwide to their cause. Mabel, with her communications undergraduate sibling Melanie, 21, galvanised 21 volunteers who delivered 88 cakes across three sponsor homes. 
You Don't Have to Be a Cake Boss
Currently, BFG gets about six to eight volunteers each month, who sustain a constant supply to residential homes. But they aim to further grow their volunteer base to donate to more homes. "We just ask that each volunteer bakes from the heart! You do not need any impressive baking or frosting skills. You could even use box mix and canned frosting. It doesn't matter if you're a beginner or a baker pro," they said. 
All BFG volunteers receive emails with the month's theme from the sisters, who brainstorm fresh ideas, choosing flavours and colours that potentially appeal to children and youths, or that coincide with festive seasons.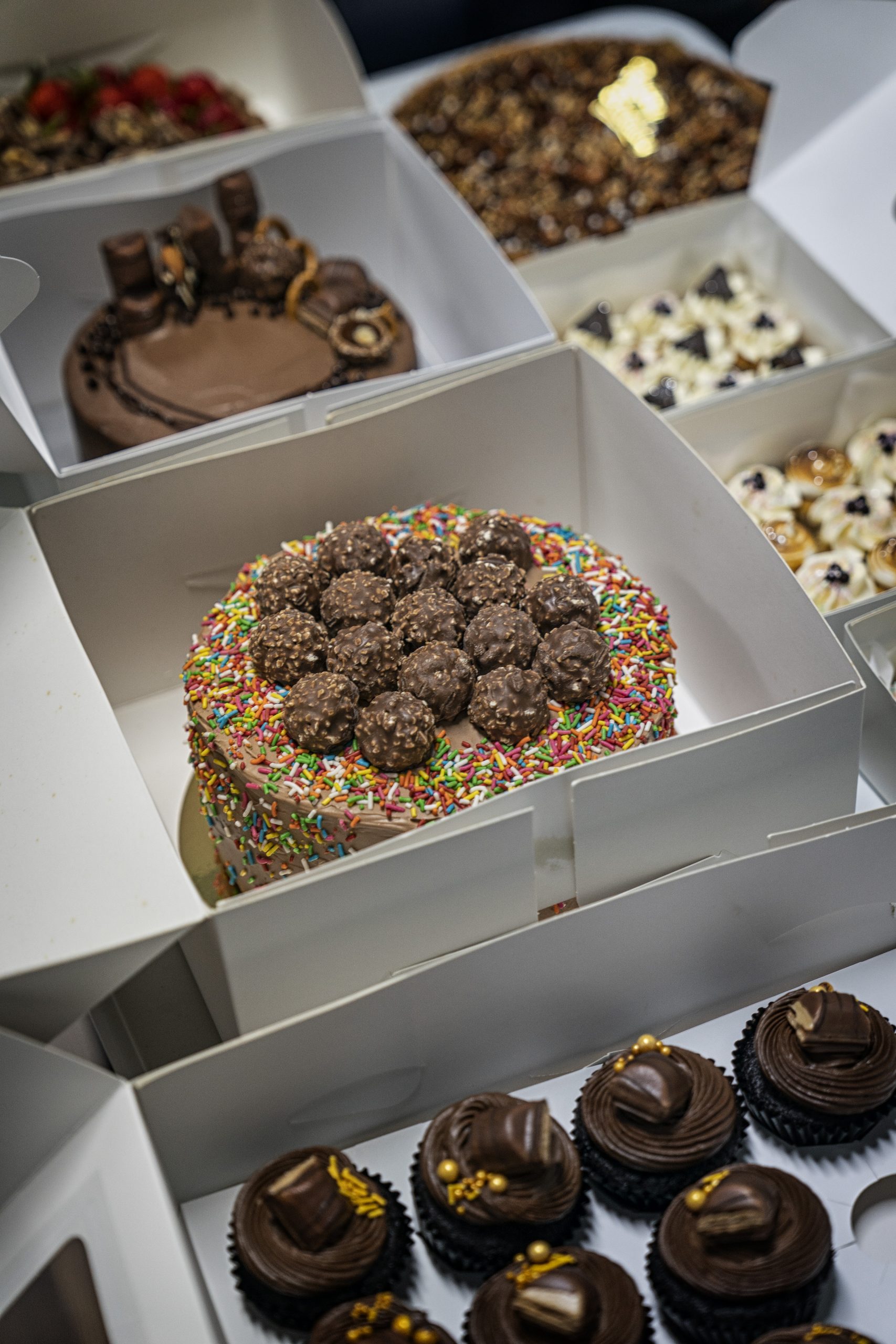 (Above) By 8.15pm, Ms Tan's hazelnut chocolate cake had joined the other bakes including tarts, tall cakes and frosted cupcakes — all hazelnut at heart. In what has become a monthly ritual at The Salvation Army Gracehaven Home, gleeful teasing and hangry calls of "eh hurry up leh, I'm hungry!" fill the air, as about 12 boys and 25 girls, aged 13 to 17 years old, file into two adjoining rooms with separate birthday suppers for girls and boys for their cake. PHOTO: BRYAN VAN DER BEEK
Relentlessly joyful call outs include "Rainbow sprinkles", "Hot chocolate", "Say … cheeeeessse" — you get the picture — to which they reply with their cake pledge. Volunteers, many of whom run home-cooking businesses and have their own followers on social media, then upload reels or images to their feeds, tagging BFG @bakeforgoodsg to raise awareness.
"The homes are very grateful for our continued support, as this has enabled them to celebrate every child as they've always hoped to do, even if they don't have the means," they said. "We just hope recipients are "excited, happy and maybe… slightly hungry!"
Cooking exponent Ms Tan is excited too. Her favourite aspect of feeding others has always been the camaraderie of sharing a meal. 
"I like the idea that I can give my friends and family something that they enjoy and that we can bond over together. I'm not a shopper, which makes me a terrible gift-giver. So my gifts to my loved ones typically always come in the form of food."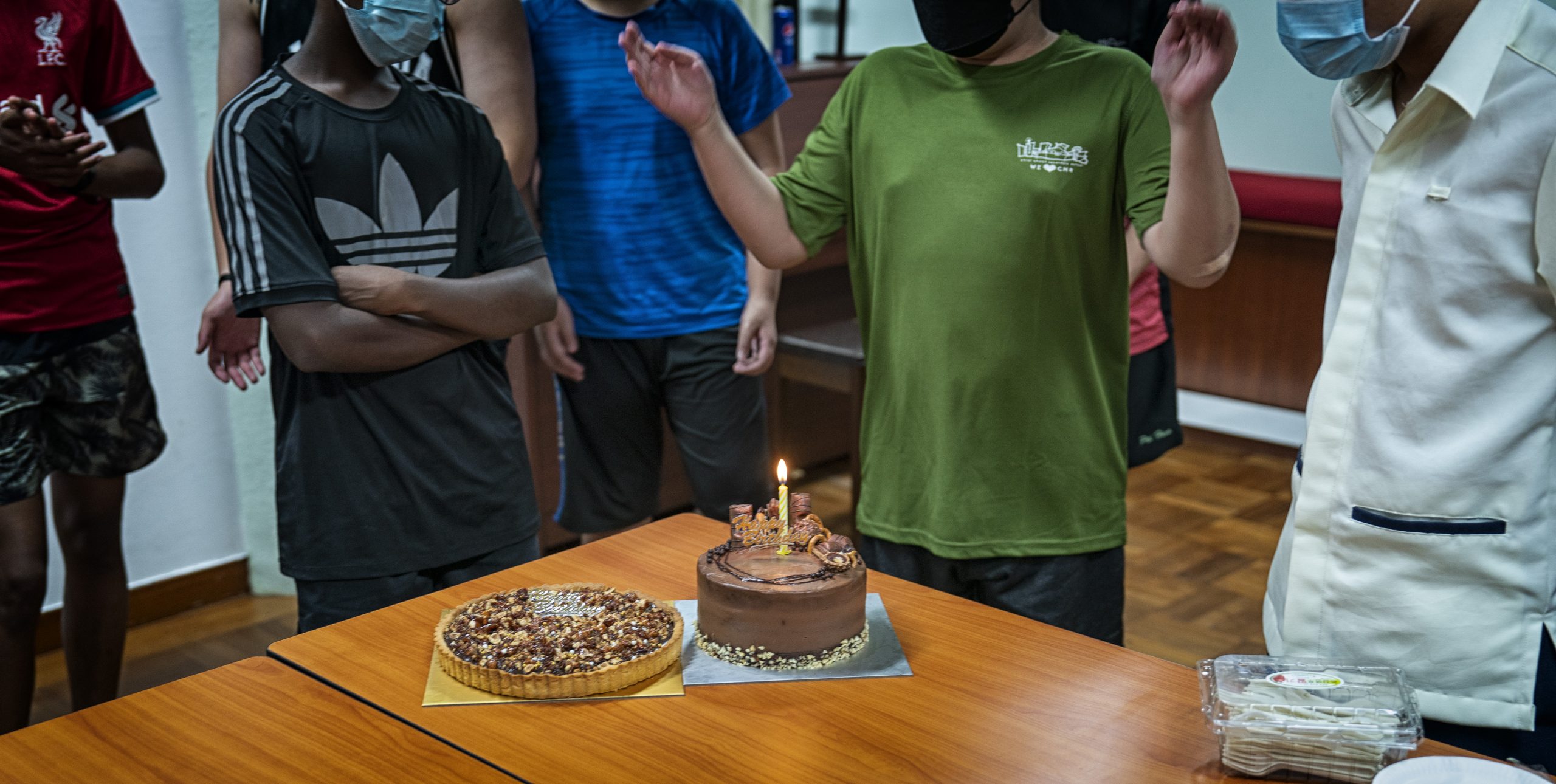 (Above) By around 8.30pm, the birthday song had been sung, wishes made, and candles blown out at The Salvation Army Gracehaven Home. PHOTO: BRYAN VAN DER BEEK
And her favourite flavour to bake? "Always chocolate, because that's what I like to eat. I've been making a specific chocolate birthday cake for my friends and godchildren for over a decade, so it's become a tradition that I cherish. I always have the components for that cake (okay, most cakes) in my fridge and pantry, so I can whip one up expeditiously."
Ms Tan offered her family's favourite, hazelnut chocolate cake, to the The Salvation Army Gracehaven home, answering to the Bake For Good's theme, "Hazelnut Haven".  
---
Keen to bake for good? If you're keen to share a home-baked treat to the boys and girls at any one of BFG's sponsor homes, sign up as a homebaker with Bake For Good by contacting them at @bakeforgoodsg on Instagram, signing up directly at this link, or emailing them at bakeforgoodsg@gmail.com 
---